Project Description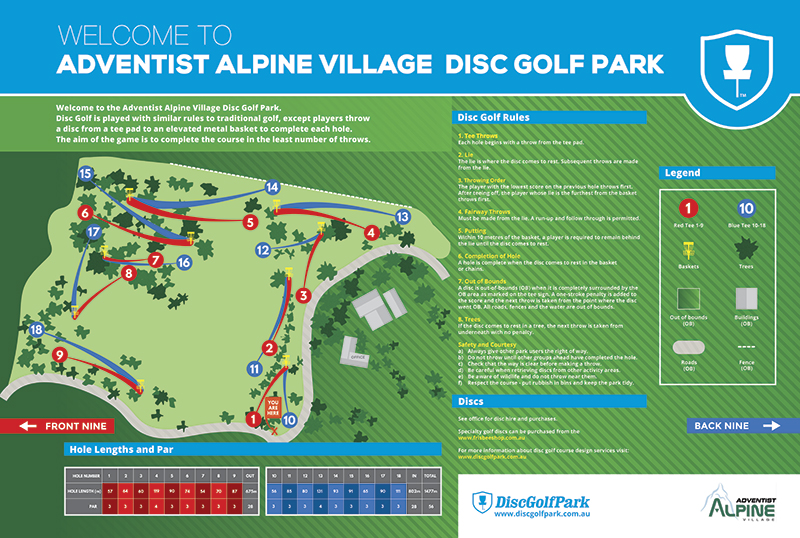 Adventist Alpine Village Disc Golf Park is located in Jindabyne, NSW. The course is situated on the beautiful grounds of the Village which welcomes visitors to stay in the many chalets and caravan/camping areas on offer. The Village has an extensive range of cabins suitable for large school groups and boasts a fully equipped conference centre with catering facilities.
The 9 basket course has 18 different tees providing a challenge for both beginner and advanced players. Substantial changes in elevation offer players a fun challenge. Large old growth trees border the more open holes and joined by smaller eucalyptus which forms some tight fairways. All of this is complemented by a beautiful bushland backdrop with loads of animals, including kangaroos, wombats, and deer joining you on the course.
For more info… Visit
website
Baskets/Tees: 9 / 18
Par: 56
Price: Free to Play
Access: Public
Targets: DiscGolfPark Target
Location
---
122 Tinworth Dr, Jindabyne NEW SOUTH WALES 2627
Website
MEET THE DESIGNER
---
ANDREW FERGUSON
Andrew has over a decade experience playing and promoting disc golf throughout Australia and the world. From initial consultation to completion, Andrew has designed and delivered disc golf course projects for various local governments, schools and private businesses. As Tournament Director, Andrew has designed multiple disc golf courses for the Australian National Tour and was the Event Co-Organiser for the 2017 Aussie Open PDGA Major. Andrew has served as a board member of Australian Disc Golf (ADG) and is the co-founding member of Geelong Disc Golf. " I just love to give back to this sport and the community".