Project Description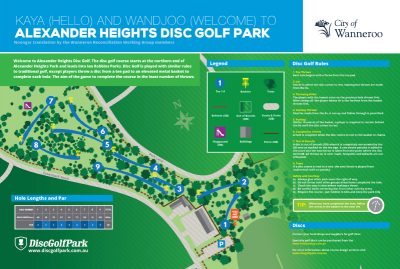 Alexander Heights adds another quiver into the arsenal that is disc golf in the Perth and Western Australian region. This is a short 9 hole course weaving through a public park just 25 minutes north of the city. Beginner to advanced levels holes in slightly wooded areas and some open will challenge advanced level players to keep the birdy train rolling.
Baskets/Tees: 9 / 9
Par: 28
Length: 826 Metres
Price: Free to Play
Access: Public
Targets: DiscGolfPark Target
Location
---
Greenpark Road Alexander Heights WESTERN AUSTRALIA 6064
MEET THE DESIGNER
---
ANDREW FERGUSON
Andrew has over a decade experience playing and promoting disc golf throughout Australia and the world. From initial consultation to completion, Andrew has designed and delivered disc golf course projects for various local governments, schools and private businesses. As Tournament Director, Andrew has designed multiple disc golf courses for the Australian National Tour and was the Event Co-Organiser for the 2017 Aussie Open PDGA Major. Andrew has served as a board member of Australian Disc Golf (ADG) and is the co-founding member of Geelong Disc Golf. " I just love to give back to this sport and the community".