Project Description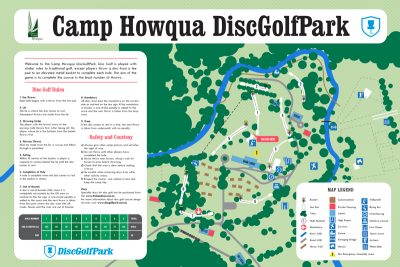 Camp Howqua is home to a 9-hole Disc Golf Park course. Camp Howqua is an educational, recreational and camping facility. that is owned and operated by the Seventh-day Adventist Church. The course covers in excess of 64 hectares of picturesque countryside situated on the beautiful Howqua River. It is located in the Victorian High Country, only 45 minutes drive from the top of Mt Buller and an easy 2.5-hour drive from central Melbourne, via Mansfield. This is a very fun challenging course which wraps around the camp and activities. Don't forget your sunscreen and bathers as the river is beautiful and the drive out here is really taking in the idyllic Aussie bush of Australia.
Baskets/Tees: 9 / 9
Price: Free to Play
Access: Public
Targets: DiscGolfPark Target
Location
---
127 Howqua River Road Howqua VICTORIA 3723
MEET THE DESIGNER
---
ANDREW FERGUSON
Andrew has over a decade experience playing and promoting disc golf throughout Australia and the world. From initial consultation to completion, Andrew has designed and delivered disc golf course projects for various local governments, schools and private businesses. As Tournament Director, Andrew has designed multiple disc golf courses for the Australian National Tour and was the Event Co-Organiser for the 2017 Aussie Open PDGA Major. Andrew has served as a board member of Australian Disc Golf (ADG) and is the co-founding member of Geelong Disc Golf. " I just love to give back to this sport and the community".