Project Description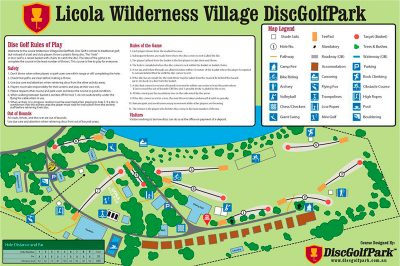 In November 2012 the DiscGolfPark team made a trip high into the Victorian Alps to design a beginner friendly, permanent 9-hole disc golf course at the Licola Wilderness Village. Licola DiscGolfPark is situated on the beautiful McAllister River, 254 kms from Melbourne. Licola is owned by the Lions Club and welcomes school groups, community groups, tourists, and hosts weddings and other functions.
DiscGolfPark designed an easy to learn but difficult to master 9-hole course at Licola that winds players through every corner of the facility, past many of the other activities including the flying fox, rock wall, and volleyball court. We provided 9 Pro DisCatchers as well as 9 TeeSigns and an InfoBoard for the Par 28, 705m course. The InfoBoard not only details the disc golf course but also doubles as a village map for all visitors. Adam and the rest of the team at Licola are very enthusiastic about disc golf, and most school groups that visit Licola are now playing disc golf as one of their activities. Although in a secluded area, the Licola course is teaching heaps of kids about disc golf and will be instrumental to the further development of the sport throughout Victoria.
Baskets/Tees: 9 / 18
Price: Free to Play
Access: Public
Targets: DiscGolfPark Target
Location
---
Jamieson-Licola Road Licola VICTORIA 3858
MEET THE DESIGNER
---
CHRIS FINN
Chris has been playing and teaching the sport of disc golf for 31 years. A multiple Australian Champion who has competed on the world stage ensuring Chris has unbiased exposure to the best course designs worldwide. Chris brings across his professional experience of working in the land surveying industry for 22 years to assist in his vision for course designs that engage all levels of stakeholders into the future. Prior to his time as the owner and business manager of RAD, Chris has owned and managed an award-winning surveying consultancy based in Perth which ensures his designs also meet the many requirements of public sector project developments. " I'm passionate about Disc Golf and about the sense of community, everything we do with course designs reflects this passion and it's my pleasure to gift this for future generations".