Project Description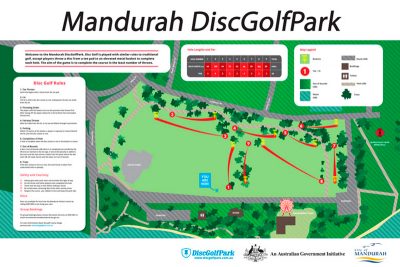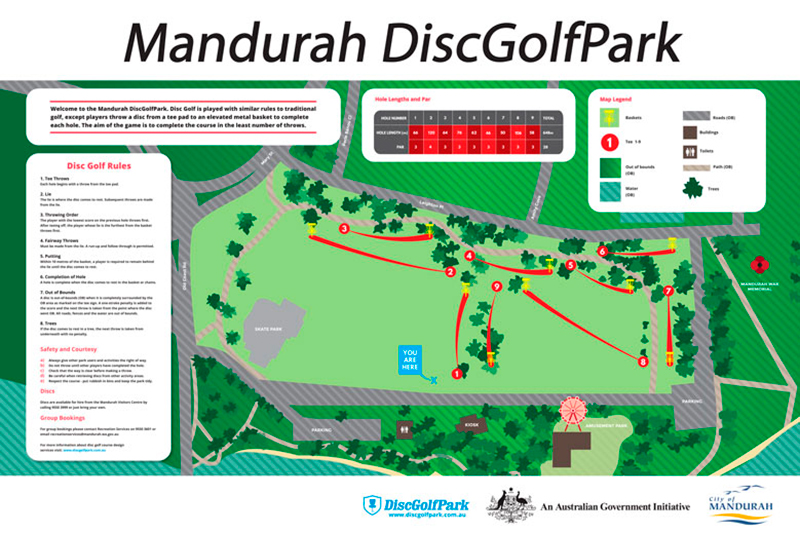 The Mandurah Disc Golf Park is set on one of the most prime real-estate locations in all of Western Australia. Situated on the western foreshore in Hall Park, the course takes in views of the popular sandy beach and the main street of Mandurah.
The course conveniently begins at the carpark, wrapping around the gardens to incorporate the nearby skatepark and amusement park. The course was developed by the Mandurah City Council as a way to activate park space and encourage its use by the community.
Funded in part by the Government of Western Australia Department of the Attorney General, the course is the ideal facility for people new to the sport of all ages and abilities. This is a beginner friendly course with a couple of longer holes to test out your skills, open and windy in the afternoon you might need some stable discs.
Baskets/Tees: 9 / 9
Par: 28
Length: 648 Metres
Price: Free to Play
Access: Public
Targets: DiscGolfPark Target
Location
---
25 Leighton Place, Halls Head WESTERN AUSTRALIA 6210
MEET THE DESIGNER
---
CHRIS FINN
Chris has been playing and teaching the sport of disc golf for 31 years. A multiple Australian Champion who has competed on the world stage ensuring Chris has unbiased exposure to the best course designs worldwide. Chris brings across his professional experience of working in the land surveying industry for 22 years to assist in his vision for course designs that engage all levels of stakeholders into the future. Prior to his time as the owner and business manager of RAD, Chris has owned and managed an award-winning surveying consultancy based in Perth which ensures his designs also meet the many requirements of public sector project developments. "I'm passionate about Disc Golf and about the sense of community, everything we do with course designs reflects this passion and it's my pleasure to gift this for future generations".
ANDREW FERGUSON
Andrew has over a decade experience playing and promoting disc golf throughout Australia and the world. From initial consultation to completion, Andrew has designed and delivered disc golf course projects for various local governments, schools and private businesses. As Tournament Director, Andrew has designed multiple disc golf courses for the Australian National Tour and was the Event Co-Organiser for the 2017 Aussie Open PDGA Major. Andrew has served as a board member of Australian Disc Golf (ADG) and is the co-founding member of Geelong Disc Golf. " I just love to give back to this sport and the community".