Project Description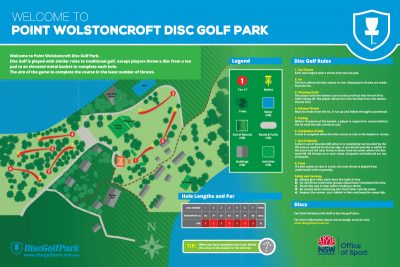 Bounded by state forest and the crystal blue waters of Lake Macquarie, Point Wolstoncroft Sport and Recreation Centre has accommodation for 226 guests and a variety of accommodation options to suit: School camps, Weddings, Sailing courses, Corporate training, Group Getaways, Weekend Escapes.
From adventure challenges and water-based activities to bush outings and recreational fun, there's plenty of non-stop action to choose from at Point Wolstoncroft Sport and Recreation Centre. One of the feature activities includes disc golf! The 7 hole facility first plays around the main oval, making use the of the large gum trees. The course then challenges players as it takes them up a steep hill, before finishing with a fun long and winding downhill final hole.
For more info… Visit the
website
Baskets/Tees: 9 / 9
Par: 21
Length: 505 Metres
Price: Contact Management
Access: Public
Targets: DiscGolfPark Target
Location
---
Kanangra Drive, Gwandalan NEW SOUTH WALES 2259
Website
MEET THE DESIGNER
---
ANDREW FERGUSON
Andrew has over a decade experience playing and promoting disc golf throughout Australia and the world. From initial consultation to completion, Andrew has designed and delivered disc golf course projects for various local governments, schools and private businesses. As Tournament Director, Andrew has designed multiple disc golf courses for the Australian National Tour and was the Event Co-Organiser for the 2017 Aussie Open PDGA Major. Andrew has served as a board member of Australian Disc Golf (ADG) and is the co-founding member of Geelong Disc Golf. " I just love to give back to this sport and the community".