Project Description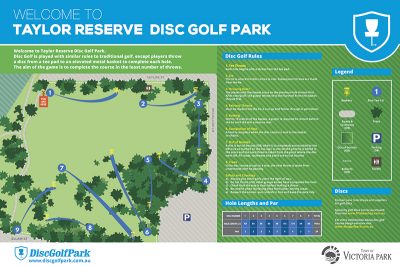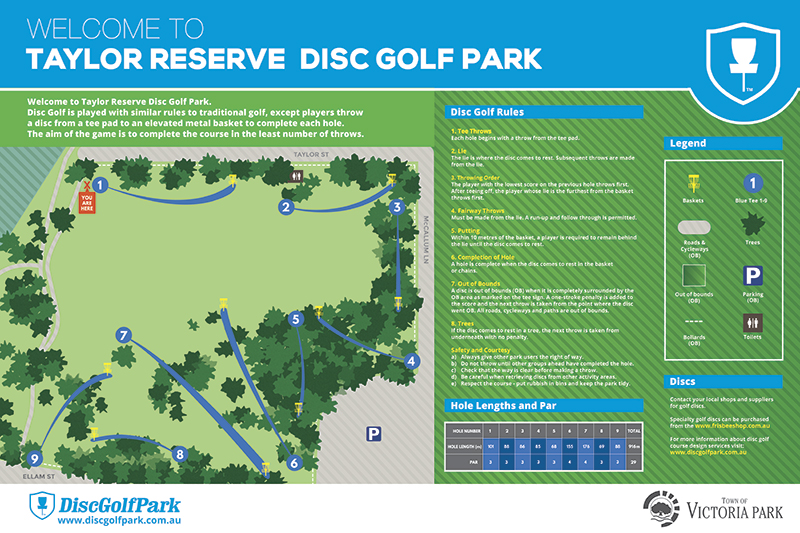 Taylor Reserve Disc Golf Park is located in Victoria Park. The 9 hole course is one of the closest to a major city in Australia, with the beautiful Perth skyline acting as a backdrop to many of the holes of this par 29 course. Designed by Andrew Ferguson of DiscGolfPark Australia, the layout offers a great challenge for players of all abilities but is especially suited for intermediate to advanced players.
The park contains a diverse mix of trees, including old growth native eucalypts and large Moreton Bay figs. Players are required to throw a number of different shots on this course, as long open holes are mixed with technical tunnel shots. Rollers, low skips shots, big hyzers, flicks and long turnover throws are a necessity if hoping for a low score. The course has high-quality Innova DisCatcher Pro baskets and green powder coated tee signs with accurate map info for each hole. An arrow inside each basket directs players to the next tee.
Baskets/Tees: 9 / 9
Par: 29
Length: 916 Metres
Price: Free to Play
Access: Public
Targets: Innova DisCatcher Pro
Location
---
Taylor St, Victoria Park WESTERN AUSTRALIA 6100
MEET THE DESIGNER
---
ANDREW FERGUSON
Andrew has over a decade experience playing and promoting disc golf throughout Australia and the world. From initial consultation to completion, Andrew has designed and delivered disc golf course projects for various local governments, schools and private businesses. As Tournament Director, Andrew has designed multiple disc golf courses for the Australian National Tour and was the Event Co-Organiser for the 2017 Aussie Open PDGA Major. Andrew has served as a board member of Australian Disc Golf (ADG) and is the co-founding member of Geelong Disc Golf. " I just love to give back to this sport and the community".