Project Description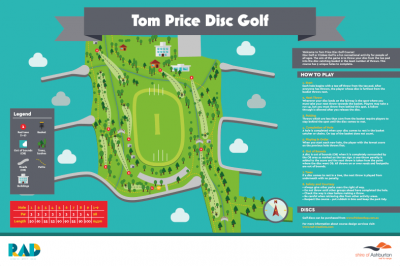 Tom Price Disc Golf Course is located at Minna Oval in the township of Tom Price in Western Australia. This 9 hole course is one of two disc golf courses to be installed in the Shire of Ashburton and the first in a remote Australian mining town.
The Shire acquired the services of RAD to design and install both courses. Tom Price disc golf is located around Minna Oval making use of the native gums and subtle elevation to create a challenging amateur course. A primary school and other sporting clubs are located nearby, helping improve the area's status as a sports hub.
Baskets/Tees: 9 / 9
Par: 28
Length: 643 Metres
Price: Free to Play
Access: Public
Targets: DiscGolfPark Target
Location
---
Minna Oval Jabbarup Pl Tom Price WESTERN AUSTRALIA 6751
MEET THE DESIGNER
---
CHRIS FINN
Chris has been playing and teaching the sport of disc golf for 31 years. A multiple Australian Champion who has competed on the world stage ensuring Chris has unbiased exposure to the best course designs worldwide. Chris brings across his professional experience of working in the land surveying industry for 22 years to assist in his vision for course designs that engage all levels of stakeholders into the future. Prior to his time as the owner and business manager of RAD, Chris has owned and managed an award-winning surveying consultancy based in Perth which ensures his designs also meet the many requirements of public sector project developments. "I'm passionate about Disc Golf and about the sense of community, everything we do with course designs reflects this passion and it's my pleasure to gift this for future generations".